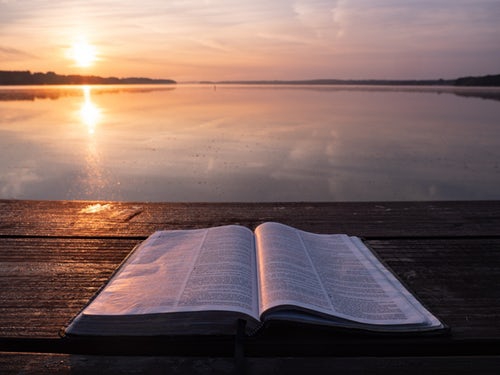 I used to hate homework. Then I grew up, and now I enjoy the challenge of doing spiritual homework from my mentor. As we were discussing some things, she told me that I am to write a blog on "water demons." My parameters were to use the Bible and determine what it says from there. God had dual purposes for it, I would later find out. We, as Kingdom warriors, will need to face the enemy at some point. It gives us an advantage to understand our adversary.
I went to the book of Genesis to read about water and its significance. God created the heavens and the earth (Gen. 1:1), and the Spirit of God was hovering over the face of the waters (v. 2). God went on to separate the Heavens, earth and waters (vs. 6-7). God essentially created 3 realms: Heaven, Earth, and sea. God resides in Heaven and sets His throne there. Satan is tossed from Heaven and cast down. Revelation 12 tells us about the battle in the heavens to cast out the dragon (vs. 7-12), and then the heavens are told to rejoice and the inhabitants of the earth and sea are warned of Satan's wrath (v. 12). We can think that Satan with his lofty vision of himself would set up a kingdom to mimic God's Kingdom. Since Satan isn't able to set up a false kingdom in heaven, he may possibly set it up in the deeps which are opposite of the heavens. In Genesis 6:2, the Bible refers to the fallen angels (demons) as "sons of God." They were created beings that were given a powerful purpose in the Kingdom but were corrupted by lies and deceit, enslaved by Satan and his minions.
More research led to me to Job. I read the book of Job, and it resonated with me and my situation. I tend to play the victim in my situation and think that God is after me. I was right there alongside Job. I have seen Job's friends show up in my life as well. It wasn't until I got to the end of Job that my homework assignment and life collided. The end of Job is God's response to Job. It's not pretty. I went from cheering and "attaboying" Job to feeling two inches tall. Chapter 41 of Job has God asking Job is he is able to catch Leviathan and master it. I saw that there is a lot of description of Leviathan but it all demonstrates the strength of the beast and the mastery of God. I have no strength to take out the sea creature and nothing to offer God.
Let us understand just how dangerous water demons are. Please read Mark 5:1-20. There is much to dissect here. The demons operate near water seeing as they met Jesus immediately as He got out of the boat (v.2). They can exhibit supernatural strength in humans shown by the demoniac breaking shackles and chains (vs. 3-4). They are not afraid to hurt anyone including the one they are tormenting (v. 5) by making him cut himself with stones. They understand the authority of Christ (vs. 6-7). Verse 9 gives us a first taste of a named demon. They can have names, and this one happens to be named Legion because they are many. It is significant to note that Jesus doesn't need to ask the demon its name nor converse with it. Christ let us know that there are different types of demons. They can travel in many groups. They are also out for death and destruction. Legion requests to be cast into the pigs and when they are sent there instead of just staying there, they drive them to the cliffs and drown them (vs. 12-13). They could have just stayed in the pigs, they could have taken them up to a high mountain but instead they drove them into the sea. Death is their goal. Murder is not beneath them. They want wholesale slaughter. The question is: what is in the sea that they would want to go there?
Naturally, I looked in Revelation and read in chapter 13, and it talks about the beast from the sea. The beast doesn't rise from the earth but the sea. Revelation 13:1-10 talks about the beast in some detail. I looked at the traits of the beast and wrote them down. The following are some hints as to how water demons operate: They speak great things and blasphemies (v. 5); make war with the saints (v. 7); and able to overcome them (v. 7). Yes, the blood of Christ gives us victory, but for the sake of His righteousness, God allows the enemy to overcome.
With this realization, I understand the strength of those that reside in the water, but God has asserted Himself as much stronger. So I do not fear but seek the one whom rules all. I must ask God how to recognize the demons, strategy for defeating them and the courage to stand in the battle. God is faithful to do all that. He is also merciful to fight with us. Bless God. Knowing our enemy helps us to wage war better and when we take away the shock of the enemy and his tactics we can focus instead on the One who gives us the strategy of victory.
Does the Bible outright identify "water demons" and the answer is no. However, there are multiple accounts surrounding demons and water to start asking the questions. Ask the Creator. He has left many clues in the Word for us to bring to Him with questions. I know I am not done learning.