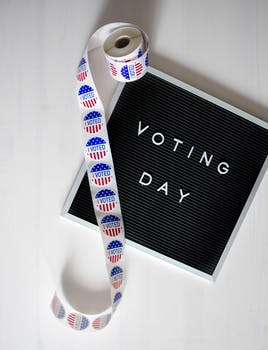 I went and voted in the rain and wind without complaint. Recognizing those who fought for my privilege to do this paid a high price in far less favorable conditions. My daughter in law accompanied me. Her first time to vote in PA. Also she brought along an umbrella to keep me dry, and an iced tea to keep me hydrated. I decided to write this blog early afternoon EST on Election Day before results or pundits begin their spins.
Twenty hour watches on the wall are in place. Many of us spent the noon hour praying with people all over this great nation for all the candidates and the voters.Yes even those making their way to our border. Go visit you tube and look up Rick Joyner's word from several years ago concerning a vision he had about this border crossing event.
During the night I was awakened with a vivid picture of what I thought was an angel. He was streaking straight up into the heavens as if he was an arrow shot from a taunt bow. The heavens all around him were chaotic and tumultuous. There was light and dark. There was fire. Even now it is not totally clear to me. I just knew I had to begin to pray. I did so in the SPIRIT as I did not know what was happening. I do believe though it had to do with the chaos of the election process in our nation today.
When I got up and opened my bible and journal this jumped out at me. (Isaiah 45 was spoken over me twice regarding my upcoming mission to Kenya and east Africa. Each day I am reading, meditating, and writing down the impressions as I wait in quiet before HIM.)
Isaiah 45:18-19
New Living Translation (NLT)
18 For the Lord is God,
and he created the heavens and earth
and put everything in place.
He made the world to be lived in,
not to be a place of empty chaos.
"I am the Lord," he says,
"and there is no other.
19 I publicly proclaim bold promises.
I do not whisper obscurities in some dark corner.
I would not have told the people of Israel[a] to seek me
if I could not be found.
I, the Lord, speak only what is true
and declare only what is right.
GOD does not want us to live in empty chaos. When the HOLY SPIRIT was hovering over the deep it was chaotic and without form. Since GOD spoke creation into being everything went into its' place. The world was meant to be an orderly place to live.
HE has openly and loudly proclaimed HIS bold promises. HE did not whisper unclear things in a dark corner. HE can be found. He speak only what is true and declared only what is right.
I reached back to beloved trusted pastors, prophets, and apostles in Kenya for them to stand with us and pray. They love our land. They love our President. They know "so goes USA so goes the world." Below is a crafted prayer they sent to me for this Election Day. May GOD bless Kenya and her upright and holy church leaders!
"It is God's agenda that will prevail not mans. My God scatter every wicked conspiracy against His agenda for America. May the enemies language be water down, confused, and rendered null and void! I pray that the Strong arm of God oppose and defeat demonic desires against America. In Jesus mighty name let God defend His perfect will over America. May His name bring deliverance that will last for eternity… Amen"
May we take the promises and hope of the Holy Scriptures, this spirit led and heartfelt prayer for America and rest in HIS unchanging grace as we watch the results come in and wake up to a new day! HIS promise is mercies are new every day. May we tap into the deep well of HIS mercy!