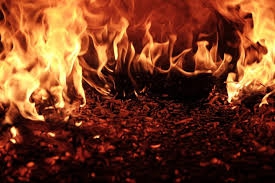 Do you hunger enough? Do you thirst enough? Do you even NEED God?
Those are some questions that I ask myself regularly. I profess that I am a Christian but, behind closed doors, do I act changed? I am fluent in "Christianese" and can put on a very convincing performance, but will it fool God? The quick answer is: No. That is the only person I need to convince. I don't need you to tell me that I am a Christian. You already judge me for numerous things, but you don't sit on the Throne. You may judge me now, but in the end, you won't sit over me.
So, why do you and I live for man's approval? Such wrong and distorted thinking! "He that is without sin among you, let him first cast a stone.." (paraphrase of John 8:7).
All this frustration with people condemning people and hearing stories of people in church whispering and gossiping about others made me saddened. When I get that sad I turn to the Lord for comfort and clarity. I sat down and listened to Him. My Spirit did some crying out and, in that pain, a hunger for Him flared up! I poured out my everything to Him in worship and the below psalm is the result.
It felt to me all over the place but that fiery hunger for Him just over took every aspect of my thoughts and overwhelmed me. I couldn't do anything but write and choke back tears. Read the prose below and ask yourself, when was the last time I was this hungry for God? Can you recall a time? When was the last time you sought God in the Word and came back to reality with several hours having passed? Have you been so overwhelmed with His Love that you poured love on someone you dislike? If you can't answer these questions, you may want to examine your Spirit.
The need is deep.
It stirs within my chest.
I have cried out, starving for Bread.
I have craved a dying man's thirst of Water.
I have to have it.
Your Love is all around.
My repentance brings me closer.
I have been burned by the heat of the Fire,
I have seen the hand that is Mighty.
I have to lean on it.
Miracles are your Joy.
Your Word will not fall to the ground.
Nothing I can do can reach You.
Nothing I can say can sway You.
Nothing of me, but only You.
Give me more of pain to feel the Glory.
Give me more tears to cry the Joy.
Give me more groaning for Your presence.
All I need is You.
Always been you.
Forever with you.