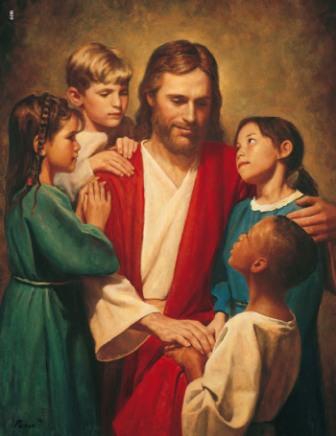 I have to be honest. I do not always mirror what God would have me do for my family. I miss days of prayer with my wife and children. I don't read the Bible with them. That is just religious thinking. There isn't a schedule or list of things that I need to do to be a good, Godly father.
I do make sure I pray with my whole heart. I do talk about God to my children. I do worship God with them. They will never be able to say that their father didn't love God. My role, as their father, is to point out God's love for them. I want to make sure that I show them that the Supernatural can be Natural. Jesus didn't send the Spirit just to come down on the apostles then leave. He is still here and can still do miracles!
This next generation will be growing up to push back against a culture that tells them God fits in a box. Religion, politics, and family all try to tell us who God is and dictate how He acts. My job is to raise up my children knowing that they can have a real relationshp with God. They will be laughed at by family and friends. Told they are weird for believing in a God that has an agenda. I need to prepare them for it all. It is up to God to protect them and walk alongside them.
On Thursday night, God and the Spirit moved. They met us after dinner. As a family, we worshipped and read the Word. God pointed us to Matthew 17:14-21. With faith as small as a mustard seed, then we can move mountains. My children need to understand what faith can do. They will need it in the time to come. The Bible says that we will have a hard time and with martyrs around the world, churches burning and religion dominating, its not hard to see where we are headed.
As my wife and I put Hailey to bed, we prepared to for the nightly battle to ensue. However, as worship music played on the speaker, my children were at peace. Hailey laid there as Kristin and I sang hymns to her. I crawled in her bed and she snuggled up and just listened as I sang worship to the King. Peace reigned. I saw what the Spirit was doing and felt led to move on to Chase. I crawled in bed with him and sang there. Each song was an old hymn but the Spirit made them alive again. Peace reigned.
So, I type this on Thursday night in quiet. My children are asleep and there was no screaming, yelling, or tears. God put my children to bed and wrapped His arms around them. He is building His comfort into them and trust that He is all they need. That is something that I need to continually be reminded of.
Why do words seem so inadequate?
My soul just wants to cry in Your arms.
Why do I feel like I'm lost?
My heart just wants to be found in Your love.
Nothing completes me like praising You.
So, I will sing Your Glory over my children
As you have sung over me.
So, I will read Your Word over my children.
As You have spoken over me.
What do I need but You?
Who do they need but You?
They hear Your praise and it soothes their soul.
They hear my prayers and it gives them confidence.
They see Your answer and they will move mountains.
It is to them that faith will be like air.
It is to them that You will be like bread.
Worship and war will be their portion.
Children will rule.
Children will fight.
Children will listen.
Worshipping Warriors
Preaching Prisoners
Never giving an inch
Giving all they have.