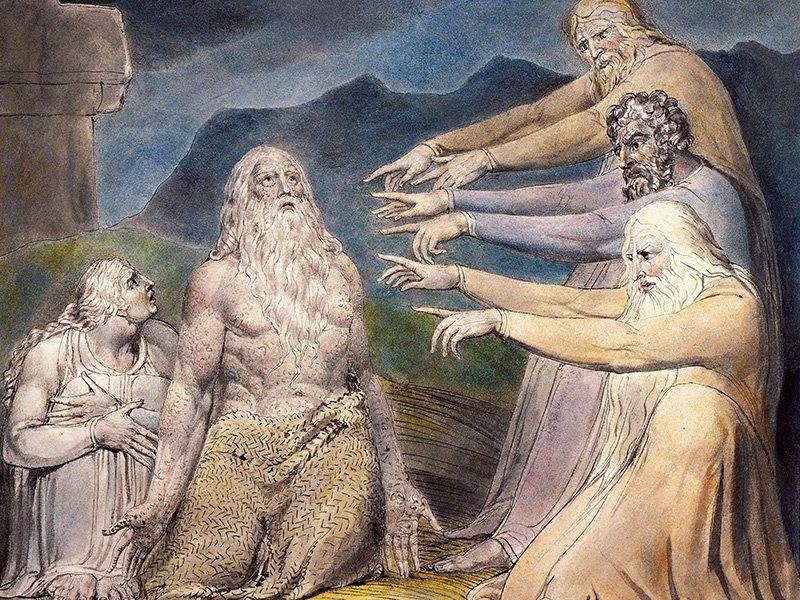 Lately I have been reading through the book of Job and I have to say, I am not a fan of his friends. In the beginning they seemed decent enough; they wept for Job's misfortune and sat with him to comfort him, even tearing their clothes in sympathy. Even their early conversations weren't that bad, mostly truthful while Job complained about how his life was going at that time. The only thing I could find wrong early on was his friend's assertion that Job had sinned and this was God's punishment.
As their talk goes on however they go from trying to comfort and council Job to outright slandering him and accusing him of being a wicked man in God's sight. This is the point where Job begins to rebuke all of them. Job is still complaining about his life but as he explains the complaining is not to curse or speak out about God, in fact he reiterates almost ad nauseam about how just God is, but rather he complains to express how he is feeling instead of hiding his heart.
Even in the midst of this complaining and explaining Job takes the time to tell God that He is just and that he (Job) will trust God no matter what. Job tells his friends that they are doing an absolutely terrible job of comforting him and points out how easy it is for them to say such things from the position they are in; they have not lost everything after all. He then goes on to say that if he were in their position then he would be offering encouragement and comfort, not judgement and condemnation.
The more I read Job the more I wonder; did Job's friends have some previous envy/hate for him or were they well meaning but misguided and ultimately very, very wrong. On one hand Job's friends are torn up about his condition but on the other hand they seem to have nothing but accusations and vitriol for him. The honest truth is that I do not know however I would lean more towards yes than no.
My reasoning is that the friends' attempts to comfort Job very quickly devolve into accusation of sin. The more the discussion wears on the more anger is directed at Job and the more outlandish and damning the accusations get. There is a moment where one of the friends accuses Job of oppressing widows and orphans. That kind of anger does not just come from nowhere.
Satan likely used Job's friends to attack Job on an emotional level however I doubt that Satan possessed them and forced them to do his bidding; likely the Bible would mention that. Instead I believe Satan simply prodded some existing flaws such as perceived offenses never forgiven or envy for Job's status as a wealthy man. By fanning those sparks into flames Satan could easily have turned Job's friends into his accusers.
This gives us two great reminders if I am correct; we need to check our own hearts or ask God to show us those little flaws inside us and just what makes sin so dangerous. Sin is dangerous not because it is overtly trying to corrupt and destroy us though it is but because it is small and insidious. God comes as a whisper so why wouldn't sin? If you come at me with obvious intent to harm won't I defend myself or run away? However if are able to more slyly act against me, such as say becoming my friend, gaining my trust then turning on me in a blindside, how do I defend against that? So it is with sin.