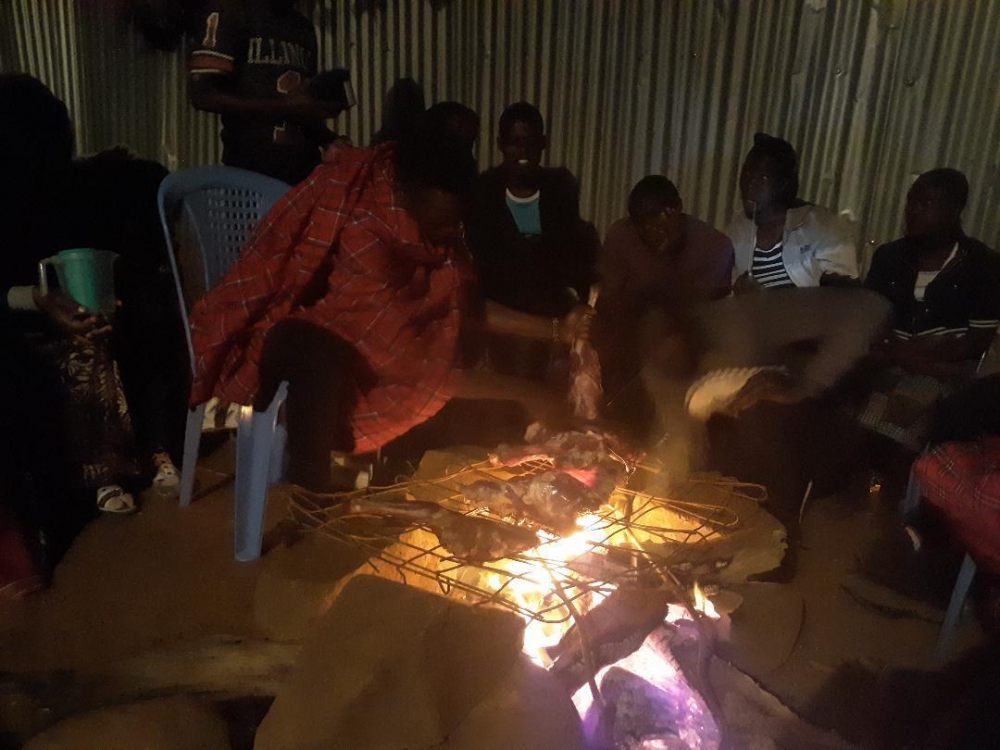 Day in the Life of an Expat in Kenya
By: Hannah S. Hunter
I used the moniker missionary for a while. That only captures part of what I am and do. For all intents and purposes, I live in Kenya and visit my birth nation of United States. Setting my face like flint to that mindset helps me to reset and align with HIM and what HE has asked of me.
When I did that it meant anything I would need could come from this soil, the market, and the people I am in relationship with here. Yes, the flesh misses many things I took for granted in the past seasons of my life. Carrying expectations and longings that would distract me are having to be dealt with and die daily.
Giving you a peek into my daily life here as an inhabitant of this land. Generally, I wake up around 5:30 AM when the local mosque is broadcasting their prayers. If I have power, I boil water in my electric kettle for tea. Sorry no good coffee nor creamer available. Wawa take me away! I put on my house shoes and go meet with my Bridegroom with my bible, tea, journal and flashlight.
Next order of business is hauling water for the day. If muddy I wash my stoop as the pail is filling at the compound water tank. Today there is not even a drop in the tank. Off the house girls and boys will go with pails and jerry cans on their heads to the river. I fill my toilet tank. Even though seatless I love that I have a toilet. I pour water into the kettle to heat for the shower. If no power I debate if wipes or cold shower wins. I pour water in a basin and place in shower area to get washed for the day. I then use that to flush toilet.
Each day I do laundry as it is all done by hand including our shoes because of mud. A scrub brush and bar of soap is used for stubborn dirt. When I am satisfied, I hang on the tin metal sheet that is the compound wall dividing me from the next compound. I use the rinse water to wash my floors- usually daily or several times a week depending on mud. I make my bed, tie up the mosquito net and my curtains and open the screenless windows and door which has a curtain to cut down on flies.
Breakfast is in the main house between 8 -10 AM depending on when the house help gets the fire going and a run to the market for what is on the menu. We have the best fruits- mango watermelon, etc. Fresh vegetables. Kale, cabbage and greens. Meat is not as common. Although living with Luos they make the best samaki(fish). Starch helps when there are slim pickings. Our students are taught to serve so they assist in meals and washing of dishes. One thing I do miss so much. Is conversation without distractions. Mealtimes is around the TV or cell phones or often conversation in Kiswahili which I am not yet fast enough to follow.
Most days if my teacher is not coming, I still put in an hour or two of Kiswahili. I begin over time to think in Kiswahili rather then English. My dear students serve as my interpreters. That is not easy as they learn British English, I totally speak as an American- fast and using bigger words or slang.
Not having a car or needing to access the safety level before you venture anywhere is a huge challenge for this independent woman who always had her own car and used to traveling on whim or will. They do this for my safety for which I am so grateful but is a huge adjustment. Yet GOD fills my day.
Power is spotty. Rare is the day we do not lose power for one reason or another. I bless GOD we did have WiFi put in the house. Yeah! It is truly Kenya as it is slower and if we lose power oh well!!
Dodging goats, donkeys, cows, people and the nonroad conditions makes even the shortest commute an adventure. Often a flat tire happens on these roads so off we go on foot. I pray my shoe choice that morning is good for walking. Mud and dust yep part of each day.
Now I am not complaining. The flowers, skies, and stars are breathtaking. I step out in the morning and in the night and just drink in the vista GOD prepared for enjoyment.
The worship, gentle people, and the presence of GOD is unparalleled to anything I have experienced to date. The zeal, faith, and willingness to serve and sacrifice in the young university students humbles me every time. Watch for this nation and this generation will be bursting on the world stage for HIS glory.
Attached is our bonfire with these precious ones. Lamb is being cooked in a Maasai wrapped in his shuka(blanket). In this environment they open their hearts and share. I contributed the smores. They were a huge hit.
My prayer is GOD will connect my birth nation people with the people GOD assigned to my heart. Mungu Akubariki.