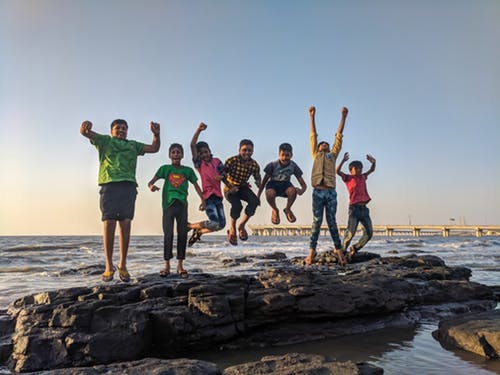 Activating our Children
By: Hannah S. Hunter
Psalms 139:16-17(NKJV) "Your eyes saw my substance being yet unformed and in your book they all were written, the days fashioned for me when as yet there were none of them. How precious also are Your thoughts to me, O God. How great is the sum of them."
No where in this Psalms and the entire chapter is fear, worry, or panic mentioned. Yet we turn on the news and the language and rhetoric make many run for their emotional security blankets and crutches.
Imagine the children picking up our vibes and reactions! I remember 9/11/01 in our nation. All flights grounded. Pentagon with a huge gash in the wall of our military headquarters. A smoldering mound in central Pennsylvania where the fourth plane went into the ground. Ground zero blanketed in smoke, flying debris, and burning metal. Our President was being shuttled place to place until the powers that be could get a handle on the situation.
As the evening fell we gathered our children close and waited. Our president came on and was resolute in his eyes but calm as he addressed the nation. Then First Lady Laura Bush with her calm demeanor told us to assure our children they were safe. The nation felt a collective blanket of warmth settle over us that night. We went to bed that night a nation that was forever changed.
Locusts, for us in Kenya, Coronavirus affecting all the world, earthquakes, and attempts to impeach our President in USA. As if a huge hand took the whole galaxy, threw in chaos, and shook us violently. We are reminded in Ephesians that HE holds all of creation together.
I was looking at the lives of my little grandbabies here in Kenya. I was reminded that just two weeks ago I had to walk them through a potentially violent and scary scenario in our compound. They take their cues from us. I appealed to their God given gifts and talents. As we were praying, I also appealed to GOD that no matter what occurred we would hear the voices and noises of heaven. Nothing came near our dwelling and we all slept in perfect peace.
As parents and leaders let us first seek God for His answers and strategies concerning these things- locusts, coronavirus, and political craziness. Remember fear, chaos, and vulnerability are the tools of the enemy- not the portion of the redeemed.
Then let us rehearse HIS promises to our children. He picked their family, their nation, and their time in history, so they are programed for victory. This is the decade of declarations and decrees. The ruling part of our destiny. We win. He always gives His lesson plan and battle for victory plan.
Teach them that David learned to slay wild animals and a giant when young. God taught him HIS skill and chords on a lyre(harp) that soothed the demon of a king. Remind them an Israeli slave girl lived in the house of the most powerful military general that were enemies to her people. Yet she did not understand politics or powers. She only knew there was a prophet from her land who could heal his leprosy. Rehearse for them King Joash at seven ruled Israel and God said of him he did what was right. He even rebuked the priest for not repairing the temple.
Begin to pray and speak to them of what GOD has implanted in them. Anoint them and call it forth. Teach them to know their God and His agents the angels. Let us rise in courage and boldness even in face of fear and model that for them.
Yesterday I called every child to the altar and prayed over them and their leaders for these things. I want them to know the church and leaders are standing with them and their Creator. We are seated with Jesus on the right hand next to the throne of GOD. Safe and with the best vantage point. Spectators in the battle HE will fight. He is our provider even in famine we shall have more than enough.
Psalms 51 is know for repentance and need of clean heart and renewed right spirit yet in the midst of that is verse 6(NLT) " But you desire honesty from the womb, teaching me wisdom even there." Tell your children the substance in first verse is everything you need. Each cell carries everything your body needs- oxygen, sugar, sodium, potassium for strong heartbeat, and now we know He planted HIS wisdom in every cell. Call that forth in them in this season and watch what God shall do. Shalom!