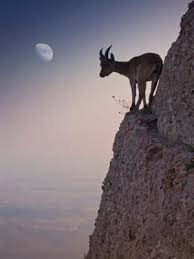 Feet of Your Soul
By: Hannah S. Hunter
Habakkuk 3:19 (AMP)The Lord God is my strength [my source of courage, my invincible army]; He has made my feet [steady and sure] like hinds' feet. And makes me walk [forward with spiritual confidence] on my [a]high places [of challenge and responsibility].
Before you write me off as dyslexic or confused about spelling hear me out on this one. As a missionary I have many physical challenges. There are days we have no idea when we will eat our next meal due to lack of funds or lack of available food. We have mud, hauled water, washing everything by hand including our shoes, snakes, no running shower or self-refilling toilets or at times a hole in the ground which goes through a minefield of cow pies and mire.
Yet that is a cake walk compared to the assault on the soul- mind, emotions and will of a person extracted from their familiar and set down in the foreign.
In this season we talk about and pray for the end time revival and the greatest harvest brought on by a movement of the Holy Spirit. I see so many angels armed to the teeth and with a very vigilant concentrated look on their faces. Not fear or anxiety but alertness. They are in motion and have so much coming at them it boggles my mind. So grateful they are with me in this season. They have locusts, our safety, and coronavirus well in hand.
Greatest battle for you and me whether general or private in the Lord's army is in our soul. I have asserted many times before the soul is where the enemy has the greatest access to us. It was the twisting of God's words and Eve's reasoning that opened the door for the enemy to come. Just try living in a culture different than your own to realize it is the mindsets or belief systems that divide us. If not careful and not submitted to God, it can break bonds and covenants.
Never before has God really come and pricked me for my words, my thoughts, my emotions, and my will with laser intensity. For a German redhead who has been a strong leader this is so brutal. Yet it is not for destruction it is for leanness and agility of our soul.
Yesterday was one of those days that the tears of repentance (filled my kitchen water tank to the very top) and tears of frustration (battled by hauling twenty pails of water) were nonstop. When Dan took dinner with me, they flowed into my fish and greens. When my son proffered me a rare treat of salt and vinegar crisps(chips) them tears dried up. No way I was having soggy chips!
Our God the Father, Jesus our warrior King, and the Holy Spirit our radical compatriot are so kind when they are dealing with us. No condemnation just persistence to bring us into alignment.
I crawled out of bed to take air supremacy at 5 AM. As I opened the Word and began to complain He told me, "Command the feet of your soul to start to run and begin to climb My holy mountain to me. I will give your mind, will, and emotions stability and steady feet like the hind. If you look up and keep your eyes on the top where I am you shall not stumble. Cry, yell, even stamp your feet but keep coming."
As the day progressed, I would pause and take a breather. You are breathing hard and your heart is racing. Sometimes I wanted to look down or just lay down and rest. Yet He drew my eyes to the top and what waited for me.
Glory! Suddenly you are standing at the top and surveying all you could not see on the ascent. A peace descends. Surrounding you is songs from the deep you never heard before. Voices and sounds of heaven. All senses engaged.
I closed my eyes and said, "Oh God, I want to stay here forever, but I know I must go back to the valley. I fixed every smell, taste, sight, hearing, and touch in my mind. My will bowed with every fiber of its' being. My emotions aligned to worship Him and who He is. I knew too soon this would fade.
Falling asleep there was natural. My soul carried me in my rest to my dwelling place. Today my soul is allowing the Spirit in my spirit to order our steps and the soul is a willing follower in the footsteps of Jesus.