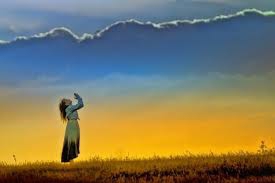 Stillness- the posture of Reshaping and Remolding
By: Hannah S. Hunter
Jeremiah 18:1-3(AMP) "The word which came to Jeremiah from the Lord: 2 "Arise and go down to the potter's house, and there I will make you hear My words." 3 Then I went down to the potter's house, and saw that he was working at the wheel. 4 But the vessel that he was making from clay was spoiled by the potter's hand; so he made it over, reworking it and making it into another pot that seemed good to him."
As a child I remember laying in my grandmother's pasture in the tall grass or under her cool breezy cherry tree. There I would dream. From my safe secret place, I would see myself having to provide escape, transportation, food and water, and safe passage for all ages of types of people in times of turmoil. In your dreams everyone gets home safely and they live happily after…..
I love the dreams and play(work) of children because there are no limits at all. If we could only understand that in God, it is the same. If we dare to dream and believe like a child nothing can stop or harm us.
When I became a nurse, He favored me to rise to places of leadership even without all of man's credentials. At every level of training and education there are tests for readiness.
I fear the strength of tornadoes because I have lived through them, but I also have rebuked them. One night I oversaw seventy patients and staff of people. The dispatcher of the town called me to tell me a tornado was headed my way and I had to move all the people into the halls, wrap them in blankets to protect from flying objects- mostly glass, and open all the windows to prevent pressurized implosion. My flesh said, "get under the desk, every man for himself." Yet I knew I had to be the picture of calm and assurance. Probably scored an A- for wanting to hide.
Training as a critical care nurse to work in the ICU and CCU you were required to have a team and lead a team. The instructor would fire with machine gun rapidness scenarios of crisis. You had seconds to mobilize, assign your team their positional functions and handle whatever came because in real life situations the balance of a person's life was in your hands and decisions.
Being on a code team whenever the announcement came from anywhere in the large hospital you dropped everything and ran. You were running to life threatening calls for help. As you ran you had no idea what you would be encountering until you arrived on the scene and could assess in seconds. Often the nurses from that wing stood back and you were in charge. Calm, understanding, and confidence was the order to change the atmosphere and at times the outcome.
As I would stand in the pulpit or address my ministry students when I returned to Kenya in January, I often would assert prophetically March is going to be a tumultuous month. We must stop, quiet ourselves, go deep in our secret place, pray, and be still to let Him show us what is happening and give us strategy and marching orders.
Letting God totally shred some of our mindsets and beliefs. The reshaping and remolding take a stillness- complete stillness. If we move in surgery, it could cost us our life as we know it or how we function in a position. If you watch glass blowers or potters, the shape and mold is in the mind and heart of the creator not the creation.
Coronavirus does not mold or shape us. Our Creator does. He has sent angels already who are fighting on our behalf. Just as they turned locusts from our land, angels have weapons to cover us, drive these threats from our land, and protect those who fear Him. I have felt their presence and their very breath.
He is replacing our mindsets, strongholds, and beliefs that do not bring Him honor. Not for our destruction but for our promotion. Did God create or send this? Absolutely not! He is using it though for the refinement, not destruction of His people.
We find ourselves with students, orphaned siblings, and family in our care. A new church plant in the roughest part of town. We have been training for this our whole life. It is our time to rise in confidence and courage and lead those around us to a place of stillness and faithful trust.
Turn your eyes to heaven and walk each step that He ordained and watch His goodness. Pray for our government leaders in the lands. Pray for the pastors who must address and make decisions that may not please government. Take the exam to see the measure of your faith and trust. It is not a pass or fail- it is a test of where we are. The reshape and remold in the stillness will bring forth a vessel of honor for His glory.
II Timothy 2:21(NLT) "If you keep yourself pure, you will be a special utensil for honorable use. Your life will be clean, and you will be ready for the Master to use you for every good work."