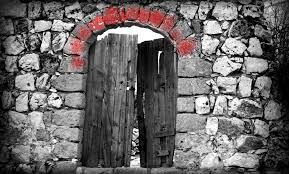 When Being Passed Over is Good
By: Hannah S. Hunter
Exodus 12:11,13b,14(NLT) "Be fully dressed, wear your sandals, and carry your walking stick in your hand. Eat the meal with urgency, for this is the Lord's Passover. When I see the blood, I will pass over you. This plague of death will not touch you when I strike the land of Egypt. "This is a day to remember. Each year, from generation to generation, you must celebrate it as a special festival to the Lord. This is a law for all time."
As I am sitting at my computer writing we have no power and have not had for several hours. A hard rain and windstorm came through and added to mud already present with every step. Missing some of the supplies and meat because a case of the virus was diagnosed in the town, we wanted to shop an hour away. Not even twenty-four hours ago the President of Kenya abruptly held a news conference. About three hours before curfew and locked down Nairobi. People out of town were forced to stay in the countryside separated from their families and will have to retreat to their tribal land until this is lifted.
It is now evening, and the sun is setting after the storm. Families separated. Police ready to patrol and enforce curfew. Many have not found supplies for their daily needs. Yet there is a peace that is here.
We had our ministry school class by cell phone light. Passover is not big in this part of Kenya. Not because they do not stand with Israel, but it has not been part of their culture and so many just try to survive. This year with all the restrictions it has given us time to really pause and look at this.
Like the world today Egypt was ravished and broken by the effects of one plague after another. It was in that desperation Pharaoh told Israel just go and even gave them all the wealth and spoils. We must be vigilant that we do not act like the Egyptians in this plague season.
Sharing this with the students this evening I had never really taken note of how they were to be fully dressed, shoes on, walking sticks ready, and told to eat hardily. All the while outside the breath of the first born of Egypt was being drawn out. A wail was heard from palace to slums. Yet inside the safety of the blood-stained doors the children of the most high God were eating very well and preparing to take a long journey. A contrast in perspective, preparation, and expectation.
Deliverance and Passover came during a time that the most powerful nation in the known world was broken and defeated. That is the perspective we must attain and focus on. This will pass. As an ICU who lost her husband who lost his breath to cancer, and nursing a son crippled in a freak accident I do not minimize this suffering and fear.
I do know there is an end and a goodness of God in all of this. The greatest move of God is on the other side of the Red Sea.
Meanwhile let us encourage all those around us. I have made it a point to at least once a week reach out to my fellow prophets, apostles, and pastors in this land and speak His promises and goodness to them. Had the privilege to pray with a brother for my land, USA and our land of Kenya. We spoke His promises back to Him, made prophetic declarations.
Tonight, as we closed class we worshiped and then in our small circle we began to pray and declare. A fire came and one saw lightening flash over us. This is to be our finest hour church. The arch angels assigned to nations are responding to our prayers to align again with His intent for them. Let us agree and align with His promises over our families and our nations no matter what media or statistics are trying to dictate to us. Our hope is in the Lord God who made heaven and earth. Shalom and He is risen. May we walk in that resurrection power.