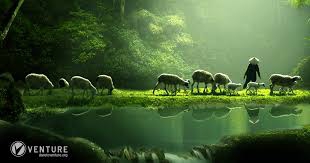 Mchungaji
By: Hannah S. Hunter
Psalms 23:1(NLT) "The Lord is my shepherd; I have all that I need."
Mchungaji is the Kiswahili word for shepherd but is also the word for pastor. When a Kenyan sees a pastor and hears that titled pronounced, he sees a shepherd. Some tribes are known as pastoral societies. They are nomadic and travel with their herds of livestock. They rely on them for food and are their wealth. They get shepherds and what that entails very well.
In some of the tribes as a boy is ready to enter manhood he must go through rites of passage. One of his tasks is to guard the herds from dangers of man, predators, and the elements. It is profoundly serious business. Many tribal fights are over animals or land for grazing. Young boys not yet men have died over this issue.
When it is time to market the livestock, it is the men who come to town in groups carrying their weapons. Although guns ownership is very controlled here, they are found among the herders. At times, the military and police must be brought in to restore order.
Said all that to say this shepherding and the flocks is not child's play nor just a hobby and can indeed be a matter of life and death. If there ever was a time, we need the bond and closeness of the shepherd and the flock it is now-globally. We need creative ways to stay connected and viable in this moment that governments have gone to great lengths to separate us.
Our verse today says it all. HE, our Lord is our shepherd. He sees that we have all we need. Let us focus and look to Him to give us the avenues and ways to continue to reach and meet the needs of those entrusted in our care.
If hell cannot stop the progress of the gospel going forth neither will man, his devices, or schemes. In this season I am amazed how our ministries, churches, businesses, households, and all that concerns us do not match up with our 2020 planner or calendar. Yet salvation, deliverance, healings, bonds, and all that concerns us is thriving.
Yes, we are weary of the loss of normalcy, freedom of movement, and dousing of our plans for this year. Yet God has our books opened on his table in the courts of heaven. He is not moved. It is written in our books a good plan and the strategy to get us to our purpose. Darkness, curfews, and restrictions do not thwart His perfect plan for us. It just looks way different than we thought when He whispered it to our heart.
Now we get to realign our thinking of the vision through His eyes. It is NOT the time to give up on our purpose nor take a detour that could lead us down a dead end. We pause, prick our ears, and do not be hasty in speaking or moving out of frustrations. Understand I am preaching to the choir here. Not one of us remains unshaken but the anchor is holding firm and deep if we let Him.
I challenge us to go back and look at Psalms 23. Our first response is I know that backward and forward. Look at it afresh through the eyes of the Author in this moment and watch as revelation will cause your eyes to begin to sparkle with hope and your heart again sing in the middle of the camp of lockdown.
His promise is His goodness and His unfailing love, NLT uses this word in place of mercy, shall pursue or chase me. It says all, not some, but all the days of my life. Each day you wake up in lockdown He is pursuing you.
Remember as a child you loved the chase. It is how we learned the dance of boys and girls chasing each other for attention and being noticed. We would run with the wind in our face and laugh until we were caught. We loved it and were thrilled when the one we admired and crushed on caught us.
God is doing that even in this season. He is pursuing us and will always pursue us to bring us to His house of safety and security and invites us to stay forever. Amen.