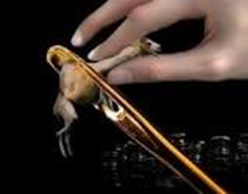 Several times in prophesying over someone's life the HOLY SPIRIT has given me a picture of a threaded needle pulling two fabrics or other types materials together. Sometimes they are two very different materials. Some were frayed and looked beyond hope. Some looked they did not belong to together and seemed to fight the seam that held them together. One was involved in a big fracture at a national level fighting for the life of a nation.
It is interesting the opposite end of the eye is a sharp end of the needle that pierces the material. It must pierce through in order to bring two pieces together in a binding useful way. It forms bond not easily broken. Yet it cannot do this if the thread has not passed through the eye of the needle.
The sewer must have an eye to see the thread and the hole. The master sewer must choose the colors and which materials will work together whether they seem to or desire to be fitted or not to form a lasting product. The choice is in the hand of the sewer not the raw material. Material must be cut and fashioned. The sewer has the vision and idea of how he wants something used. He carries out this mission with a goal in mind.
Elul, the Hebrew month we are in is said to be, "eye of the needle." I love how GOD the master sewer has the vision, mission, goal, needle, thread, and material. HE knows we are only a part. HE knows we cannot make changes all at once. HE is asking us to yield and open up areas we closed and prepare them for HIM to move in and take up residence. From that yielded eye of the needles HE can take gorgeous threads and weave us into such amazing products of HIS glory with those HE chose to sow us together with.
We fight this because of past wrongs or wounds. Yet this is also the month to fix what is broken. Let us yield so HE can repair, restore, and redeem for HIS glory. Each morning as I sit and take communion I cry out for this for myself each of my four sons and their whole households.
JESUS coins this phrase in three different gospels- Matthew 19:24, Mark 10:25, and Luke 18:25. In each of these accounts the people are pressing him with hard questions seeking answers. HE opens with parables (stories using familiar scenario to bring in a spiritual lesson) about the widow who persisted for her needs. Another recorded parable with this one is Pharisees and tax collection. JESUS answers inquiries about divorce. What good deed must I do to get into heaven? Oh and by the way stop scolding those children and shooing them away. Bring them here! HE laid hands on their heads and blessed them. Spying a blind beggar JESUS heals him. HE goes on to predict HIS own death and implores the hearers to serve others.
What impresses me about JESUS is He does not let the questions or pull of the crowd dictate HIS actions or movement. HIS ear is always tuned to the voice of HIS FATHER. HE does what the FATHER shows HIM.
Let us not get stuck on trying to explain the eye and the camel. Let us focus on the master sewer who wrote the book on you before you ever drew your first breath. Daily I also ask the LORD while in communion for HIM to open the book on me, my sons, their wives, and my grandchildren. I pray let me think and every word that comes forth out of my mouth agree with what is in those books. I want to close any door of what I spoke to agree with our adversary.
When our enemy goes to accuse may the master sewer say there is nothing in the thread or material you can stain or tear. In this month as harvest is approaching so many beautiful colors and smells emerge. Fruits abound! May we be found rejoicing in a rich harvest that is releasing something breathtaking from the eye of needle in the hands of the Master Sewer.