We are entering a season in the Jewish culture of many feasts. One thing I love seeing threaded through the commands given to the Jews in their feasts (and ours as we are grafted in!) is the rehearsing of the mighty acts of GOD on their behalf. They have knowledge of the inspired WORD of GOD given for all occasions and seasons like no other people group.
Psalm 63(NLT) became a sacred living word I clung to in a prolonged, and at times arduous, journey in the bush of Kenya. This Psalm was written by David while in the wilderness of Judah. This is the same place John the Baptist dwelt as he prepared to be the forerunner to JESUS. is the same place JESUS was led for his forty days to be ravaged by Satan.
Though a wilderness may seem dry and barren, demons cannot thrive there for they need water. Yet in these places, GOD will put secrets and answers into our soul and spirit.
Psalms 63:1(NLT) God, you are my God; I earnestly search for you. My soul thirsts for you; my whole body longs for you in this parched and weary land where there is no water. As in all wilderness experiences, you are removed from all that is familiar and stripped of comforts. It is then you begin to truly know this GOD you have been proclaiming and worshiping. Exposure comes to your soul.
In the wilderness you do not have your job to retreat to. Neither is there social media or a book to distract. It is you and the spirit realm. Once your senses adjust to the silence, or as I have adopted quietude, the soul and spirit begin to take over.
David writes 'my soul thirst for you'. Spirit gives direction to the soul- mind, will, and emotion- and the body follows suit. The body follows by longing for HIM. Now we are coming more into proper alignment on how we should live. Then we earnestly seek for HIM when distractions are silenced and removed.
Wildernesses are dry. 'Parched' is being dehydrated, in desperate need of refreshment, satisfaction, and relief from heat and dryness. Few who dwell outside the wilderness have any concept of the depth of being parched.
Living in the bush with no vehicle, well, and meager funds, and this parched state becomes a stark reality. Drought had caused our only water source, contaminated though it was, to dry up. The crops were suffering; cows were not producing milk, or chickens laying eggs. At one point, I had a single 30 oz. of bottle water which I had to prioritize bathing, washing my clothes, or drinking. The condition of your soul becomes apparent. I will tell you - indeed you EARNESTLY search for HIM. HE wants to be found!
From that vantage point, we learn to stop looking at self, and our own ability, and look up to see HIM. He lifts us to a different place in our soul and spirit. Psalms 63:2 I have seen you in your sanctuary and gazed upon your power and glory.
At first glance, in our limited thinking, wilderness, thirst, and a waterless land, does not equate with power and glory. Not in our Greek thinking minds nor in our physical situation, however, when looking with our spirit in charge, the power and glory of the wilderness becomes more "the real" to us than anything else.
The word sanctuary means a haven, refuge, or reserve for birds. The wilderness with its aridness draws us to enter a dimension of HIS sanctuary and behold HIS power and glory. We talk about being on altars in our churches with the masses and a glory cloud appearing. Yet I can tell you that some of the sweetest sightings of HIS power and glory are in the quietness and solitude of the wilderness.
Nights were so dark with no power. We had come to a street whose name was loosely translated 'the devil has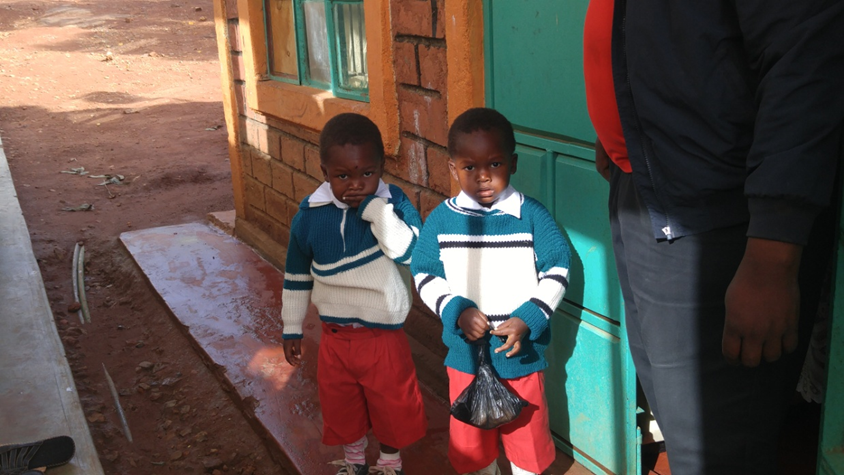 come'. Just that day I had admitted twins to the hospital near death. In fact, one we lost twice in the process to cardiac arrest. One of our young men was out of his mind from cerebral malaria. Weariness and discouragement accompanied me to this place of worship on this dark, evil street. In obedience we just began to worship. I began to hear a rustling like a bird in a tree. It intensified. I inquired of the LORD. What am I hearing? Then I saw that it was the train of HIS robe coming down the aisle. HE impressed in my spirit that HE comes where we prepare a place of worship for HIM- a sanctuary. Oh how my soul and spirit rose up in joy and refreshment! In the midst of dark uncertainty, I gazed upon HIS power and glory.
When dawn broke the team and I went to the hospital and anointed our boy with cerebral malaria. GOD delivered him. He was released that very day and joined us in worship and evangelizing in the streets. I am delighted to say the twins are recovered and in school.
Oh GOD of Abraham, Isaac, and Jacob we are so grateful for the wilderness you prepared for the perfecting of our souls and spirits. May we make room to house more of your power and glory in the sancturary. Selah