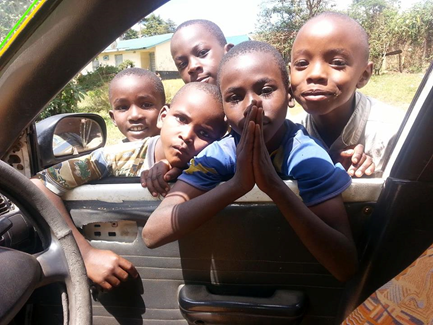 Dan's family safe on tribal land with electricity newly installed .Dan is in Kilgoris two hours away. The IT supervisor overseeing electronic elections was murdered. American Embassy evacuated for fear of riots and violence. Military is rattling sabers at their own citizens. Schools closed for at least one month until calm and order is assured. Election 8/8- New beginnings! Hebrew Av- lion of Judah roars.
The above is a lengthier version of what I posted on Facebook last night after I spoke to my Kenyan son. It was so reassuring to see his peaceful smiling face and hear his voice be soft and calm. We declared our love for one another and longing to be together again on Kenyan or American soil for HIS purposes.
I added the main Kenyan TV news channel to my timeline feed so I can watch moment by moment the events unfolding surrounding this election. Only GOD can be Dan's protector. I know this scripture is imprinted on our hearts, and written on our foreheads, but I want to declare it here.(NLT) Psalms 91:1-5,9, 10a,11-16Those who live in the shelter of the Most High will find rest in the shadow of the Almighty. This I declare about the Lord He alone is my refuge, my place of safety; HE is my God, and I trust him. He will cover you with his feathers.
He will shelter you with his wings. His faithful promises are your armor and protection. Do not be afraid of the terrors of the night, the arrow that flies in the day .If you make the Lord your refuge, if you make the Most High your shelter, no evil will conquer you; For he will order his angels to protect you wherever you go will hold you up with their hands. The Lord says, "I will rescue those who love me. I will protect those who trust in my name.
When they call on me, I will answer; I will be with them in trouble. I will rescue and honor them. I will reward them with a long life and give them my salvation."
Psalms sustained me when I was in the bush with little food, contaminated water, drought, witchdoctors leveling their curses, and many ill people with limited resources. I also declare this over Dan. May it be his portion! Psalms 63:6-8 I lie awake thinking of you, meditating on you through the night .Because you are my helper, I sing for joy in the shadow of your wings. I cling to you; strong right hand holds me securely.
Funny as it may seem this far into the blog I want to shift and focus on the first day of a third world citizen in a first world country. Lest any of you think I insult Dan by referring to Kenya as a third world he does not. He will say, "Mum, that is what we are for now."
When I land in Nairobi I will assaulted literally by customs agents who want bribes, out of sight of cameras of course, and demand I pay taxes. They hold my passport until I comply negotiate and comply. Dan cannot approach me until I leave the airport. Everybody wants to carry your bag for money. Throw in the police with the machine guns you got your picture of a third world airport.
Coming down the concourse in Philadelphia Dan is welcome to our land by our huge American flag hanging from ceiling. The last section of the preamble to our Declaration of Independence: Life, Liberty, and the pursuit of Happiness is written on the wall. On the greeting lounge wall are the signers of our constitution in their handwriting. Dan was struck by our nation and our celebration as a one people not tribes.
The humid heat was not a shock as his homeland is near the equator; however the massive highways, thousands of vehicles in one place, and breakneck speeding rude drivers were. Dan face timed with his wife and children to let them know he is safe on our soil.
My precious gracious middle son was our driver. We had arisen and drove at some unmentionable hour before the sun showed up. We needed coffee and food. We made sure Philly was far back in our rear view mirror when we pulled into one of our Pennsylvania Dutch restaurants. One that has breakfast and lunch! We were handed a 5 page laminated menu. We were chattering until I realized the Kenyan was quiet and looked a bit perplexed. He handed me the menu and said order for me please. Even to answer the drink query with tea meant something different to the waitress. Dan meant hot milk in a mug. You then add raw sugar, drinking chocolate or possibly chai . Knowing his likes I ordered an omelet and white toast. Choices of several flavor tea bags with a pot of hot water and choices of white sugar, Splenda or some other fake sugar caused some complicated thinking when all he wanted was "tea."
Having traveled many times this same distance I wanted to guard him for rest. I had one more stop to make at the local supermarket. He did not want to rest in car, but come in with us. Soon I could see the sadness at all the food and choices. For some who go days without food or limited choices it was overwhelming. He had to leave the place. I know his desire to have all of this for his family and people were heavy in his heart.
Finally arrived at his new home for the next month. Ah! His mum's things and some familiar things from Kenya. Explanation of sink in kitchen, ice maker, water tap, outside hose for gardens, toilet, faucet in sink, and the tub and shower combo with adjusting temp and spray evoked, "Water is everywhere."
A long rest mostly curled in his bed covered like it is winter and the ever present phone- Kenyan connection followed.
In the evening he was to have his first speaking time at my home church on the heels of my last team sharing the mission in Kenya. His impressions of our physical churches and the spiritual climate is for another… And the evening and the morning were the first day.