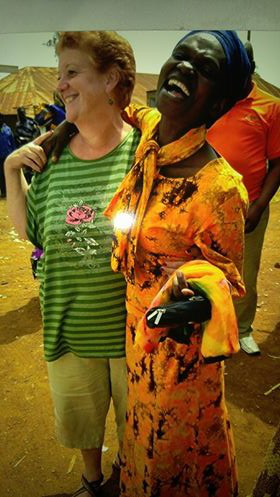 My first mission to Kenya I expected it to be my one and only. I poured HIS love and ministered to everyone HE put in my path- the abused beautiful Maasai women, orphans touching me to see if my skin was real, prisoners needing just the hug of a mum, and a marketplace crowd staring at the mzungi preaching on the rickety stage.
Every venue I went to I noticed a silent, smiling, beautiful woman dressed in regal brightly colored clothes. She was watchful and her lips moved constantly in prayer. My interaction and knowledge of the Kenyans were Dan and his team.
Toward the end of my mission I was called to a dung hut on the police compound to pray for a woman who was ill. Here was this lovely woman I had observed. She was introduced to me as Beatrice, the mother to Dan the leader of the Kenyan team. I was not given that information until they saw the intent of my heart.
A bond of two mothers who joined in purpose to see the sons equipped and released to their destiny was being forged. Yes there were subsequent missions. Average three a year. Each time Beatrice was present praying, worshiping, and supporting. I felt her heart as a mum and a mighty woman of GOD. Each time we met her English improved, and my Swahili not so much!
Fast forward to one of my prolonged missions when I set up medical camps on Beatrice's tribal land in the bush! In the heat of the day or in pitch black evening with only a smoky kerosene lantern for light we began to share those things in our hearts. When there is no electricity, running water, and no air traffic overhead it is silent. No distractions. You cannot even read a book by that light.
Women are the same all over the world. We want a good life for our children, and we dream of greatness for them. Beatrice became my sister in every way in that season. We would talk of our cultures, share yet unfulfilled dreams, speak of our families, and our lives as widows. Beatrice was the first wife of a polygamist. Her father was a military officer on first presidential detail when Kenya gained her independence from Britain. She lost her first two sons to sudden death by a curse. She saw her third son, Dan resurrected through prayer and supplication after being dead six hours.
Seven hundred people came onto her land to be treated for various illnesses or came to see what was happening. When I was ready to depart and return to USA Beatrice asked to have a word with me. In that divine moment filled with HIS glory and presence Beatrice gave me her son to be my son. She blessed me to be his mum from that day. Tears, honoring of each other, and gifts were exchanged. It is the words though that I will always carry in my spirit and heart.
I felt the weight of this task and endowment by this amazing woman, Beatrice, of the most precious thing she had-her eldest son, Dan. I sought GOD daily and wanted to honor this covenant bond.
GOD in HIS mercy hides things too painful until the moment when grace descends and envelops us. Less than six months later my dear sister took her flight back to the ONE who created her. My last words to her were speaking through a phone 7,000 miles away while her son held the phone to her ear. We know she heard because they saw her respond to my voice.
Now I get to see her in the actions and eyes of her children. I get to tell the grandbabies of the amazing grandmother I loved named Beatrice. Our differences of cultures were melted in the light of HIS glory.