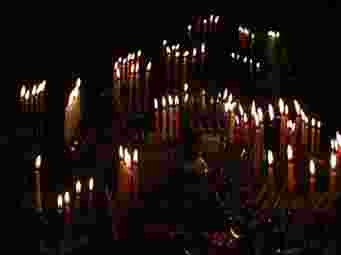 How is Your Shine?
By: Lori Meed
The people who walked in darkness
Have seen a great light;
Those who dwelt in the land of the shadow of death,
Upon them a light has shined.
Is.9:2
For with You (Yeshua)is the fountain of life; In Your light we see light.
Ps.36:9

46 I (Yeshua) have come as a light into the world, that whoever believes in Me should not abide in darkness.
John 12:46
Tonight at sundown the Feast of Dedication – Chanukah – will begin. This celebration is also called the Festival of Lights as one candle on the Chanukah menorah is lit every night for 8 nights to commemorate the miracle God performed for His people by causing the oil in the restored and cleansed temple to last for 8 days instead of one! A small group of Jews called Maccabees rebelled against a Syrian-Greek army led by Antiochus Epiphanes, and after a three year war they recaptured Jerusalem but the temple was all but destroyed.The Jews had to clean and repair the Temple, and when they were finished they rededicated it to God. They did this by lighting the lamp (Menorah) - which was a symbol of God's presence. Only one small jar of oil was found, enough for one day, but miraculously the lamp stayed alight for eight days.
This is indeed a celebration of INCREASING LIGHT!
The interesting thing about light is that it forces decisions. In darkness, things are hidden – both truth and lies – but in light all things are exposed. Someone once said that darkness has no substance but light does. As soon as light comes, darkness flees. As electric light became the norm in homes, many mothers and wives lamented the fact that now they were forced to spend more time on cleaning house as the new, more brilliant and powerful lights exposed more dirt and decay. As the LIGHT increases around us – and in us – we have decisions to make. Will we embrace what the Light exposes – turning from that which is wicked and fully walking in that which is good – or will we, like the darkness, flee? John 3:19 tells us that "men like darkness rather than light because their deeds are evil." The light of the sun can bleach out stains on clothing if the garments are left exposed long enough. Can we endure His light – the LIGHT of His presence? Are we willing to allow His Light to come into our lives and expose the good – the gold He has forged – and the dross? Will we 'walk in the light even as He is in the light'?
Mal.3:2 says,2 "But who can endure the day of His coming?And who can stand when He appears?For He is like a refiner's fire, And like launderers' soap."
Chanukah is also called the Feast of DEDICATION. After the defiling of the temple by Antiochus Epiphanes – a type of anti-Christ described and prophesied in Dan. 9:27; 11:31; 12:11 – the Macabees and those fighting with them, had to cleanse and rededicate the temple. Antiochus had both sacrificed a pig in the temple, contrary to the Levitical law and, had erected a statue of himself forcing the Jews to bow down and worship it in the temple sanctuary. After the time of cleansing and rededication, the menorah was again lit and oil for one day burned for not one but 8 days! 8 – the number of both circumcision and new beginnings! Where in us has our enemy set up his image? Where has he deceived us into sacrificing to him? Is it our eye gates, our ear gates, our physical bodies and senses?
Jesus called us to be the "light of the world. A city that is set on a hill cannot be hidden." Matt.5:14. Because He is Light (1 John. 1:5) and, once born again, we are in Him, He is in us and together we are in the Father (John ), we can be light. Filled with Him, filled with His spirit, like the oil in the Chanukah menorah, we must burn with His Holy perfect Light and shine out into the dark world. The perfect Son of God came as a baby celebrated in the season so that darkness would be made to flee.

Do you need a new beginning? Do you need Abba to circumcise your heart from anything that is holding you from full DEDICATION to Him and His purposes? How is your shine? This is the season! Light the Chanukah lamp! Allow His light, the light of His presence, to fully penetrate every part of your body, soul and spirit! This act will bring His pleasure, and His light will burn more brightly in and through you for His glory!
Lori Meed is a dear friend, sister, wife(good catch Mark), home schooling ,mom, radical lover of GOD and Israel, and fellow general.