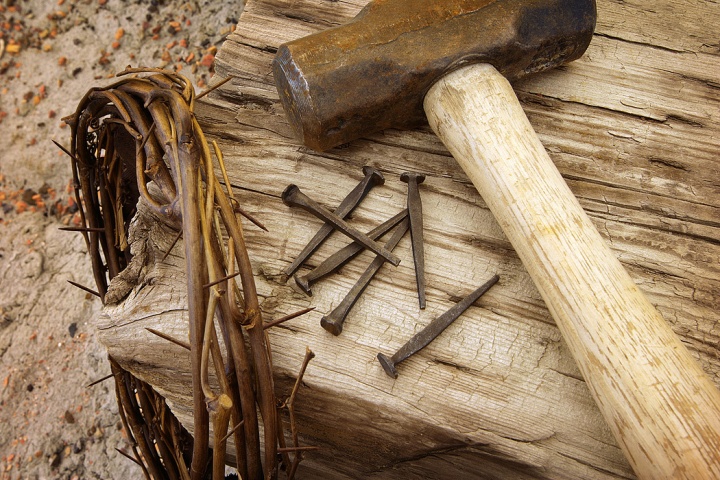 Overcome. That's the only way to describe it. I was sitting down to dinner and scarfed it down. I had a mission. I ran to get my computer (insert wife giving me weird look) and couldn't talk until I wrote the below passage down.
Where does "Nailed it!" come from? Comes from Victory. The things Jesus did no one did before or could do again. So, nailed it has two meanings: He completed his objective perfectly and they nailed it to the Cross.
As you read this, I would encourage you to read about the Crucifixion in all of the Gospels and listen to the old hymn, Jesus Paid It All. God had me read those passages and listen to the song and revealed some amazing details that I had never realized were there in the text. Did you know the dead were raised to life when Christ died? Did you realize that the disciples weren't all together in the crowd? Read those passages again. And again. Then rejoice because He paid it all. Everything. The remaining balance is 0.
Nailed It!
Have you heard the word they cry in the streets?
You can read it in the paper or the sign posts.
Its written all over the sky!
He Nailed it, they said it couldn't be done.
He nailed it on that day.
They sought to destroy when they hung him up.
Dressed in mockery, crowned in scorn,
Signed in His blood.
He nailed it and proved Him true.
He nailed it for all.
Pound for pound He took his licks
Cuts and jeers from the thirsty crowd.
Down but not out.
He nailed it and finished strong.
He nailed it perfectly.
You've never seen a life like His,
Sacrifice and Mercy measured in love.
Perfection in Man and Humanity in God.
They Nailed it to the Cross
For the final Victory.
He Nailed it, His Life.
He Nailed it, on that Cross.
Jesus nailed it, all our sin.
Jesus nailed it, For all to come!