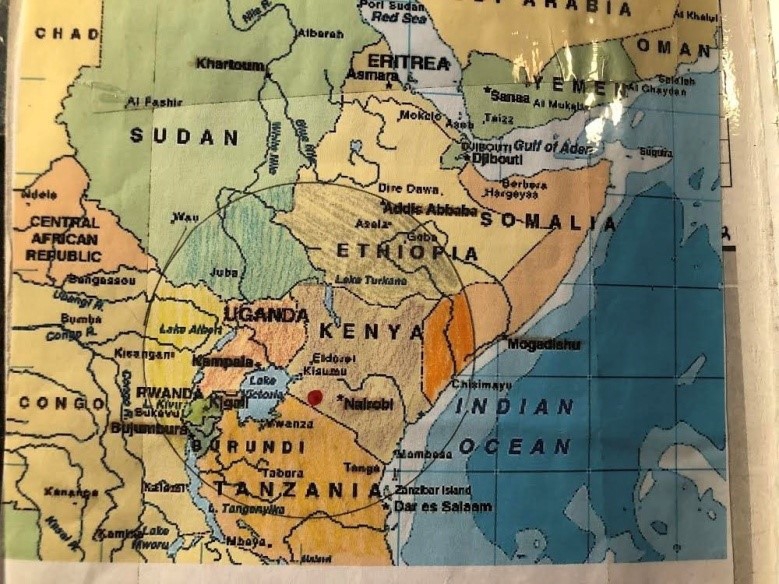 "And I saw another angel flying through the sky, carrying the eternal Good News to proclaim to the people who belong to this world—to every nation, tribe, language, and people." Rev. 14:6(NLT)
Removing Junk from your Treasure Chest
By: Hannah S. Hunter
Do you ever notice the older you get the more your world expands and the more stuff you accumulate? Then there seems to be a moment where that dash to have the most "toys and gadgets" screeches to a halt. While you were focused on that goal time raced at lightning speed. The camera hits the pause button. All five senses go silent. You shake yourself and begin to take stock of where you are. Who is with you? What is left in my hands? What did I surround myself with?
About five years ago I came to that juncture. I had raised three fine sons who were adults. I had buried a most beloved husband. The career no longer held the appeal or upward momentum. I had a home, a yard, car, and things I needed in my three story house. My life was full of friends and involvements in church and community.
I looked at all the things in my treasure chest. Much had sentimental value reflecting my seasons as a new bride, a wife, a mother, a nurse, a friend, and a church leader. Now I could take it easier. I had done well in all my roles. Many things beckoned to promise me an easier, fun time in retirement. Few constraints of time and harried demanding schedules put on us by a boss or children needing us or at least our taxi service. As I was pondering all these things the HOLY SPIRIT interrupted my reverie.
Surely HIS words were just a fanciful unrealistic idea I should not give credence to. Go to Kenya! Take MY heart to Kenya! As I looked into my treasure chest nothing pointed to Africa. After consulting with several most trusted and mature counselors in my life I went to Kenya. OK. Cross that off, and back to ponder my next move.
Back I went to stand at my treasure chest. Circumstances dictated I begin to remove and lighten what was in that chest. I would go back to Kenya for a longer period of time. Then my first born son took a wife. I exchanged the first two floors for their nest, and I fixed the upstairs apt my son occupied as my base. Wow! 36 years of tangible treasure suddenly were greatly reduced. The chest now began to be filled with things not handled by this physical world. Matt6:20(NLT) "Store your treasures in heaven, where moths and rust cannot destroy, and thieves do not break in and steal."
I just returned from our most intense mission, with a team of eight, to Kenya. I heard, "Clean the junk out of your treasure chest so I can fill with my covenant promises." Within three days of that word my car died for good. No vehicle again. He changed some key people in my life and shuffled some positions. My soul felt grief. Yet as I stood and gazed in my treasure chest I realized HE was filling it with things for the spirit not the soul. Ah! A picture of how Kenya and East Africa was there all the time hidden among my accumulated earthly treasures.
The map pictured is one HE had me adopt and draw on three years ago and begin to pray over the nations in the circle. We just completed the mission where we hosted folk from the circled nations for a conference and equipping. In my treasure chest, HE is depositing what HE is putting in my chest in heaven. It is the souls of the precious ones who need to hear HIS loving voice, and see HIS healing and saving touch.
Before the year is out I will be departing and setting my face to these nations. 'Til all the tribes and tongues can see and hear JESUS we cannot rest or retire. I am exchanging my treasures of stuff for the treasures that rest in the heart of GOD. If you peer into your treasure chest what will you find? May healed and joyous souls of many be found in mine.