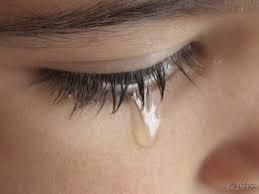 In the sweet silence of a pristine morning, several weeks ago, I heard the voice of my most BELOVED. HE whispered, "Grieving grace." I sat there contemplative. I cocked my ear, and was listening intently. I said quietly, "Could you please say that again?" It was not that I had not heard the words. I was trying to listen, to hear if GOD was putting emphasis on grieving or on grace. HE simply repeated the two words with the same emphasis.
At this stage in my life I felt I was in a good place. Joy was my portion, as Mother's Day and my birthday had just passed. Grief was not even in my peripheral vision. It was tucked far back in a closet of my mind. Daily, I am aware of my dependence on the grace of GOD. The fragility and weakness of flesh is a constant reminder of that dependency, so those words seemed out of sync with the rhythm of my life. Prophets walk out of sync a lot. GOD prepares us to intercede and intercede some more. So I wrote it down in my journal and thought about it, but nothing felt urgent.
Did HE mean I would be grieving grace, or that we had lost sight of grace, understanding , or our need of grace? Or did it mean I would need grace to grieve. We often forget that JESUS is described as a man of sorrows acquainted with grief (Is.53:3). HE knew grief. In my ministry as a prophetic healer, I see and hear the worst of the worst, here, and in east Africa. If it were not for HIS footsteps ahead of me, HIS heart beating with mine, and the work of the cross, I could not rise up from the overwhelming pain in our world. The joy of the LORD is our strength. (Neh.8:10) Joy is the first fruit of the SPIRIT. So we dust ourselves off, lift our eyes to HIS, and we choose to worship for HE alone is worthy.
In counsel, training leaders, and hanging out with friends during the following weeks, I threw around the phrase - 'grieving grace'. It was not really landing anywhere. I left it to rest between the pages of my journal. Shalom was my portion, I Peter 3:4(NLT), "The unfading beauty of a gentle and quiet spirit, which is so precious to God."
My children, biological and spiritual, are my delights. Little brings me serenity, and a smile, like hearing my children interacting with love, teasing, and unity. The enemy knows if he wants to bring me to a place that borders on angst, he only has to touch any of my children. My instinct is to run in to warn and rescue. But the worst place to be, is to try to stand between GOD and a child HE needs to deal with.
Two weeks after HE breathed this phrase, it became my heart crushing reality. When it hit, I felt no breath in my lungs - a sudden, piercing wound stunning me. This was the emotion and event. So although I have few answers as I write this, I know this phrase is applicable. If you feel you are grieving the loss of grace, trust GOD. It is truly only the beginning of accessing a level of grace you did not know was available. You are given the grace to grieve a loss. This means applying grace to yourself, and to the child you love so much, while you grieve. It means holding the tongue so to hold your peace with grace- not easy for one who uses the tongue for ministry!
Our natural instinct is to pull up the covers and lock the door. Instead, I went out to a place in nature where there is an open portal for me. I sought the LORD, and let HIM speak some hard things to me. For all of us, we must first ask LORD, "What is in me? Clean me. Forgive me." Then you let HIM remove you from the center so HE can deal with the beloved son or daughter. Turn your eyes and ears from the earthly chaos and din. Hold onto the ONE who created you and your children. Remember, and declare, that HE created them. HIS purpose for creating them is in HIS book. Agree with HIM and what is written. Step deeper into the secret place and let HIM deal. Also do not lose focus of the sons and daughters watching you as you lead, and train, in the throes of grief. Watch what HE will begin to open for you and yours.
I hit a day where the pain was beyond bearable in my spirit. I lay on my floor, or bed, all day weeping. The harder I wept the more the rain fell. Then I would worship HIM for HE is worthy. Late afternoon I got up, showered, went with several spiritual children and ministered the mighty healing and restoring power of JESUS.
In our grieving grace, we learn much when we allow HIM to set us on our feet and send us out. We desperately need HIS revelation as to the path to take, for it now seems muddled and shrouded in darkness. Yet when HE calls, we must go forth in spite of deep pain. HE comes in with such power and glory in our obedience- It is all of HIM. Also, in the grief I saw my children touched, and caught glimpses of their and my promotion in God's kingdom. Grief and grace must go hand in hand, and both are experienced when promotions, shift, or changes shake our orderly world. It is grace that brought my children and I back together. HE took us to another level of cleansing and deliverance at our very core. Issues had to be ferreted out for our next assignment in HIS vineyard ready to harvest! Psalm 5:8,11-12(NLT) Lead me in the right path, O Lord, or my enemies will conquer me. Make your way plain for me to follow. But let all who take refuge in you rejoice; let them sing joyful praises forever. Spread your protection over them, that all who love your name may be filled with joy. For you bless the godly, O Lord; you surround them with your shield of love.
What more can a mom desire?