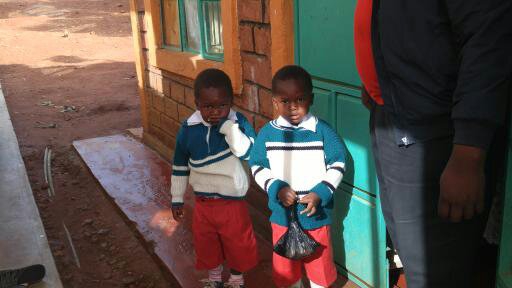 Twins! That single word evokes change in how we plan for the birth of a baby. Medically, it means more frequent visits to the doctor, ultrasounds, measurements, blood work, and vital signs checks. We determine the sex of the babies, their positioning in the womb, their sizes, and how mom's body is handling carrying two little ones. From this information the doctors, staff, and parents determine when the birth will occur to ensure optimum health for mom and twins.
In Kenya, Mapacha (Swahili for twins) is often not realized until birth. In fact, in some tribes, twins is not a blessing but a curse, and it is the job of the family or midwife to kill the mother and babies. If the twins are not detected or the tribe doesn't follow this barbaric practice, there is no prenatal care—no doctor visits, no ultrasounds. Most homes have no running water and only a hole in the ground for a toilet. When a woman begins her labor, the midwife or "helper" is summoned. The father is sent away, and the woman is assisted with birth in her own bed. The current charge for the midwife is about $50 American or 4,352 shillings.
Kilgoris, Kenya, is a tiny village eight hours by taxi west of Nairobi. You may have to share your ride with chickens. Zebras graze along the road. Baboons sit in groups as if they are "people watching." Some motorists toss them food. They dart out, retrieve the food, and run back to the side of the road.
On a January Sunday, I received a call from our head intercessor from our ministry, Team Seasoned Heart. I could tell in her voice something was amiss. She had received a text message that one of the wives of the Kilgoris mission team was in labor, and there were complications. When I left in December- three of the team's wives were pregnant.
Caroline had begun her labor six hours before. This was her fourth child. She had everything ready, and the midwife was called. When the midwife arrived and assessed Caroline, she realized something was wrong and that she was carrying twins. Samwel, Caroline's husband, called for Dan, the leader of the mission team. He came and stood watch at the door of the house and prayed. He also put a call in to his whole team to pray. At the same time, a text was sent across 7,000 miles to Pennsylvania to pray. As is Dan's custom, it was a terse message with few details. Caroline was moved to the local hospital accompanied by Samwel and Dan. Four doctors determined one baby was "transverse lie" meaning the baby was lying sideways and blocking the birth canal so neither child could emerge. Doctors painted a grim picture for mom and babies.
This team of holy men began to gather and intercede. The team is made up of all Kenyan-born men with their wives and families. Their mandate is to restore to widows, orphans, prisoners, and drug addicts their God-given inheritance. They also rescue little girls from FGM (female genital mutilation). We here in the U.S. who love this team, prayed and waited.
Caroline had to endure five more hours of labor, while doctors consulted, the mission team there interceded, and we in America prayed and kept our cell phones close. The doctors then performed a Caesarean section. God in His infinite mercy called forth David first. His cries were lusty and could be heard echoing up and down the halls. Jonathan soon was born and a duet of cries followed.
They each were about 2.26 kg or five pounds. Good weights for twins. Both had the chubby cheeks of their dad. We all thanked God and breathed a sigh of relief.
There were those in the community and hospital who began to murmur, "How come she can have two babies? Some women have none and have lost babies. They should give one or both up for women who have none. She already has three children." In Kenya, babies have been stolen from the hospital with the help of hospital attendants. Some are never recovered. The family had to set a watch on these twin boys. Servants of God, as they honorably call their pastors and bishops, showed up and gave prayers and blessings. The hospital began to realize God was the one who gave the blessing of the twins and their healthy birth. The team assembled, prayed over the twins and prophetically named them.
The drama did not end there. In Kenya, the hospital keeps the mother and the babies until the bill is paid in full. Sometimes patients or families have to do work by cleaning rooms or bathrooms until the bill is paid in full. Normally, mom and babies are sent home after three days, even with a Caesarean birth. Nearly a week had passed, and Caroline and her newborn twins were being held at the hospital because of their upaid bill. Again, we went to God for His mercy. Sovereignly, God laid it on the heart of an American mom with twins to pay the bill, and we rejoiced as pictures of Caroline, David, and Jonathan safe at home were posted.
Mapacha, parents, and siblings are doing well. What a privilege it was to hold them last month while in Kilgoris. God placed them in the perfect home and place on earth HE chose for them to be able to fulfill the purposes God has for them.
Update: Hard to believe these little guys are now in school, and have a little sister. They are more social and pudgy delightful little fellows. GOD is more than faithful.
Psalms 139:13-16 You made all the delicate, inner parts of my body
and knit me together in my mother's womb.
14 Thank you for making me so wonderfully complex!
Your workmanship is marvelous—how well I know it.
15 You watched me as I was being formed in utter seclusion,
as I was woven together in the dark of the womb.
16 You saw me before I was born.
Every day of my life was recorded in your book.
Every moment was laid out
before a single day had passed.
17 How precious are your thoughts about me, O God.
They cannot be numbered!
18 I can't even count them;
they outnumber the grains of sand!
And when I wake up,
you are still with me!